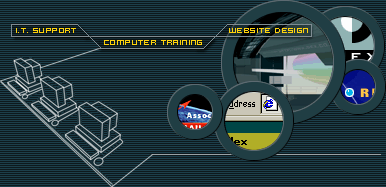 DEX
Dex has been providing IT training, IT support and website design services for the last ten years.

From our offices in Brighton we have provided a wide range of IT solutions for both small private businesses and large public companies.

We provide a wide range of computer training courses including Microsoft Word, Excel, Access, Powerpoint, Frontpage, Publisher, Project, Sage, Dreamweaver and Photoshop. Visit the Dex computer training website for course schedules and prices.

We also provide a full range of IT support services to small and medium sized businesses in the East Sussex area. We have experience troubleshooting a wide range of both hardware and software problems including system crashes, virus infections, hardware failures, software crashes, networking issues, e-mail and internet problems. Visit the dex IT support website for more information and prices.

With ten years of web design experience, we have tailored new media solutions both for small private clients seeking to establish a presence on the Web for the first time and large public companies with international scope. Visit the dex website design website for more information.